Technology is the foundation for the digital business. Businesses must prioritize the advancement of their cloud adoption maturity plans so that the foundation is in place to handle the proliferation of large-scale data, applications and services in the cloud.
While there are several emerging cloud computing platforms and technologies that can be adopted today, we work with our clients, particularly Small and Medium businesses seeking new ways of leveraging cloud computing, through the challenges toward choosing the right options – platform/provider, migration, integration, and operation to provide true costs and productivity gains within a short time-frame. Exentech helps clients evaluate and compare popular cloud-ready platforms, technologies and best practices most suited for your business.
 What is the cloud?
Simply put, Cloud computing is a subscription-based service where a business can obtain networked storage space and computer resources. While a traditional computer setup requires user to be in the same location as the data storage device, the cloud takes away that step. Cloud provider can both own and house the hardware and software necessary to run home or business applications.
Email service from providers such as Yahoo, Gmail, Hotmail is one example of cloud based application. The email service provider, takes care of housing all of the hardware and software necessary to support client email accounts. To access the email, user opens a web browser, goes to the email client, and logs in. It is accessed through an internet connection. The cloud makes it possible for you to access your information from anywhere at any time.
Types of clouds
There are different types of clouds that a business can subscribe to depending on needs.
Public Cloud               – A public cloud can be accessed by a subscriber with internet connection and access to cloud space.
Private Cloud             – A private cloud is established for a specific group or organization and limits access to just that group.
Community Cloud       – A community cloud is shared among two or more organizations that have similar cloud requirements.
Hybrid Cloud              – A hybrid cloud is a combination clouds that are a mixture of public, private, or community.
Types of providers
There are three types of cloud providers that a business can subscribe t. They differ in the amount of control a business can have over information.
Software as a Service – A SaaS provider gives subscribers access to both resources and applications. SaaS eliminates the need for a physical copy of software installed on user devices. SaaS also makes it easier to have the same software on all of your devices at once by accessing it on the cloud. In a SaaS agreement, user has the least control over the cloud.
Platform as a Service – A PaaS system goes a level above the Software as a Service setup. A PaaS provider gives subscribers access to the components that they require to develop and operate applications over the internet.
Infrastructure as a Service – An IaaS agreement, as the name states, deals primarily with computational infrastructure. In an IaaS agreement, the subscriber completely outsources the storage and resources, such as hardware and software, that they need.
As you go down the list from number one to number three, the subscriber gains more control over what they can do within the space of the cloud. The cloud provider has less control in an IaaS system than with a SaaS agreement.
 Popular Cloud options for SMBs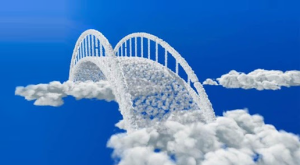 Cloud vendor competition is heating up to include a pricing war and new feature offerings in the battle for your business. Three market leaders at present are: Amazon Web Services (AWS), Google Compute Platform (GCP) and Windows Azure (Azure), who, according to Gartner, together hold the majority of the market in 2015.While AWS is the clear leader, Azure is the fastest growing cloud provider, with triple digit growth in 2014 and 2015. GCP, somewhat behind in market share, is considered a top visionary by Gartner based on the completeness of their offering, go-to-market strategy, enhanced performance and global infrastructure. Despite Amazon's significant head start, other players have entered the market, making their mark, moving up the ladder and influencing pricing, features and expectations. Apart from Microsoft and Google, many other players provide niche solutions for different businesses.
Let our experts evaluate your opportunities and build a roadmap across multiple cloud options for transitioning to Cloud Computing. Please call us or write to us at sales@exentech.com.