Information Technology Outsourcing
Small and medium businesses in the US are choosing

Information Technology Outsourcing

in order to focus on core competencies.
Offshoring is a key component of Information Technology Outsourcing.  It is relocation of processes or tasks from one country to another. Typically operational processes, such as Application Maintenance, Data Migration, Enhancements, Support etc.. are best candidates for outsourcing. Offshoring non-core tasks is resulting in not just cost savings but improved time-to-market and quality processes for organizations. It also allows them free up internal resources for core activities.
Exentech provides a variety of ITO services to its clients. These include Application Development and Maintenance, Testing & Validation Services, Packaged Solutions implementation and roll-out, Version upgrades, Re-engineering of existing processes & Migration of legacy applications as well as data.
The graphic below is a broad guideline for prioritizing IT tasks for 'offshoring' –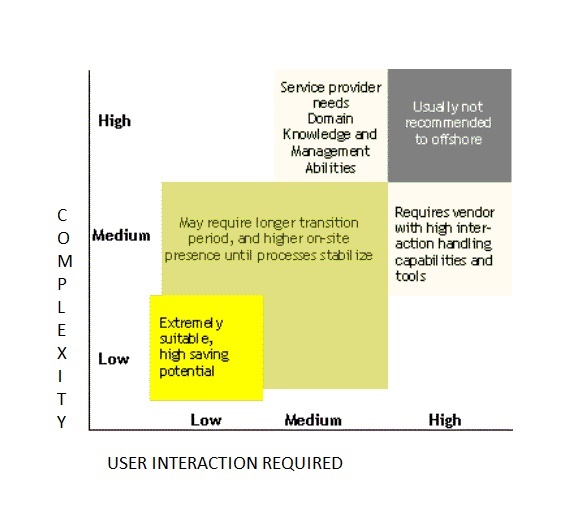 We use an optimized multi-shore model backed by proven Quality Management System.
We offer a variety of niche skills in diverse range of Platforms, Technologies and Business Domains with the help of our network proven partners. Projects are managed by a local team at client site or at one of our offsite development centers in US.
Some of the projects we have executed are listed below –
SAP and Oracle roll-outHyperion implementation & version upgrade
Migration from On-premise to Cloud based computing
Application development, version control and support for ISVs
Data migration from legacy applications to packaged solutions
Digitization of Geographical data for GPS providers
Mobile Apps development for Android, iOS and Windows
Global development and testing teams for variety of skills such as Java,.Net,Perl, Liferay
Support GDC for legacy and packaged applications
Let our experts evaluate your opportunities and build a roadmap for possible offshoring opportunities for your organization.